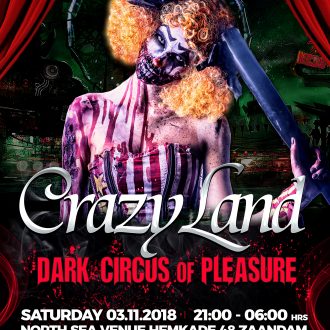 Datum : Zaterdag 3 November 2018 | 21:00 – 06:00
Lokatie : North Sea Venue – Zaandam
Genres: House, Hardstyle
Beperking : Dit evenement is voor Partners & Stellen
Leeftijd: 18+
Dresscode : Ja
Dresscode dark circus:
Als je Googled op Dark circus vind je de meest mooie afbeeldingen waaruit je inspiratie op kunt doen voor dit thema.
Jeans is niet toegestaan in welke vorm dan ook.
Alles In horror thema mag!
Heren mogen in pantalon of pak met blouse of shirt of
Als freak, clown, pierrot,
Madhatter, The joker, harlekijn, zombi, goochelaar, jongleur.
Dames kunnen zich uitleven als sexy pierrot,
Clown, horror schmink, dark evil, sexy dompteur,
Queen of harts, skeleton, zombi, burlesque circus.
Marionet, goochelaar.
Genoeg ideeën voor een waanzinnig thema!