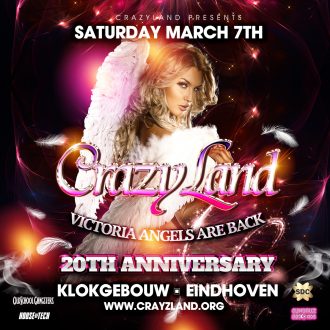 Victoria's Angels Are Back
Thema: Victoria's Angels Are Back
Datum : zaterdag 7 maart 2020
Tijd : 21:00 – 06:00 (toegang tot: 01:00)
Lokatie : Klokgebouw Eindhoven
Tickets & prijzen Crazyland
Early bird 1: € 33,55 → uitverkocht
Early bird 2: € 37,85 → uitverkocht
VIP: € 48,20 → uitverkocht
Voorverkoop 1: € 43,20 → uitverkocht
Voorverkoop 2: € 48,95 → uitverkocht
VIP: € 53,20 → uitverkocht
kluisje 1: € 7,72 → enkele beschikbaar
kluisje 2: € 9,78 → enkele beschikbaar
Alle bovenstaande prijzen zijn inclusief servicekosten.
Tickets : Verkrijgbaar bij Paylogic, bij een aantal voorverkoopadressen.
Genres : deephouse, early hardcore, early hardstyle, early rave, electro, freestyle, groove, hardstyle, hardtechno, house, latin, minimal, oldschool, progressive, raw hardstyle, techhouse, techno, trance, tribal house
Beperking : Heren alleen in gezelschap van je eigen dame.
Minimumleeftijd : 18+

Kledingvoorschrift/Dresscode :



Dames: lingerie, cocktail, gala, glitters. Angels of Devil
Black, white , Color & glamour
Heren: Net pak, pantalon of chino broek,
Blouse of polo of net shirt.
Overnachten : Boek een overnachting in de buurt via Booking.com.
Kluisjes : Er zijn kluisjes aanwezig.
Line-up
Crazyland
Timetable
Main
21:00 – 22:00: Michael Mess
 & Sjaak Koning
22:00 – 23:00: Erick E
23:00 – 00:00: La Fuente
00:00 – 01:00: Ko-c
01:00 – 02:00: Mike S
02:00 – 03:00: Chuckie
03:00 – 04:00: Michael Mess
 & Sjaak Koning
04:00 – 05:00: Des Santos
05:00 – 06:00: Faustino Dos Santos

Gumballz Freestyle
22:00 – 23:00: Adrelina
23:00 – 00:00: Dana
00:00 – 01:00: The Prophet
01:00 – 02:00: Dr Phunk
02:00 – 03:00: GumBallz
03:00 – 03:50: Dr. Rude
03:50 – 04:40: Deepack
00:00 – 00:00: DEN

Classix area 1990/2000
22:00 – 23:00: Bountyhunter ??
23:00 – 00:00: Iwan
00:00 – 01:00: MC: Ruffian
01:00 – 02:00: Panic
02:00 – 03:30: Yves ??
03:30 – 05:00: Armand
05:00 – 06:00: Rob

House of Tech
22:00 – 23:00: Jack Black
23:00 – 00:00: Brasco
00:00 – 01:00: Lexuz
01:00 – 02:00: Mep Stones
02:00 – 03:00: Miss 4Play
03:00 – 04:00: Mental Penetration
04:00 – 05:00: D'Eyes
 04:00 – 05:00: Patrick